Custom Infrared Sauna Manual
Written by Christopher Kiggins
Thank you for your purchase!
Thank you for your purchase!
We thank you very much for your purchase and we look forward to seeing your completed custom infrared sauna.
Now it's time to construct your sauna. The following chapters will guide you along your way. Should you have any questions at any point, give us a call at (800) 370-0820 and we'll be happy to walk you through every step.
How to Build your Custom Infrared Sauna
How to Build your Custom Infrared Sauna
Sauna Room Preparation
Sauna Room Preparation
Before installing your custom infrared sauna components, review the space where the sauna will be installed. Below is a basic checklist of things to consider. This is not a complete list. Please refer to your general contractor as there may be additional considerations for the site. *(FS = Field Supplied or supplied by your contractor)
Is the space already framed?
Is the space already framed?
The room will need to be framed before installing the sauna, make sure that the dimensions on the spec sheet (top-down view) will fit in the space before placing the order. All framing and bench wood will need to be field supplied (FS) unless otherwise specified.
Is the sauna going to be near a room with running water?
Is the sauna going to be near a room with running water?
Is your sauna going to be constructed next to a bathroom or a room with running water? This require installation of a vapor barrier (FS). A vapor barrier will protect your sauna from a water leak in a nearby room.
Are the walls insulated?
Are the walls insulated?
If not, all interior walls will require R-12 insulation (FS).
Is the sauna going to be built outside or have exterior walls?
Is the sauna going to be built outside or have exterior walls?
This may require a higher R-Value of insulation (FS) and a leak-proof roof.
Does the sauna have windows?
Does the sauna have windows?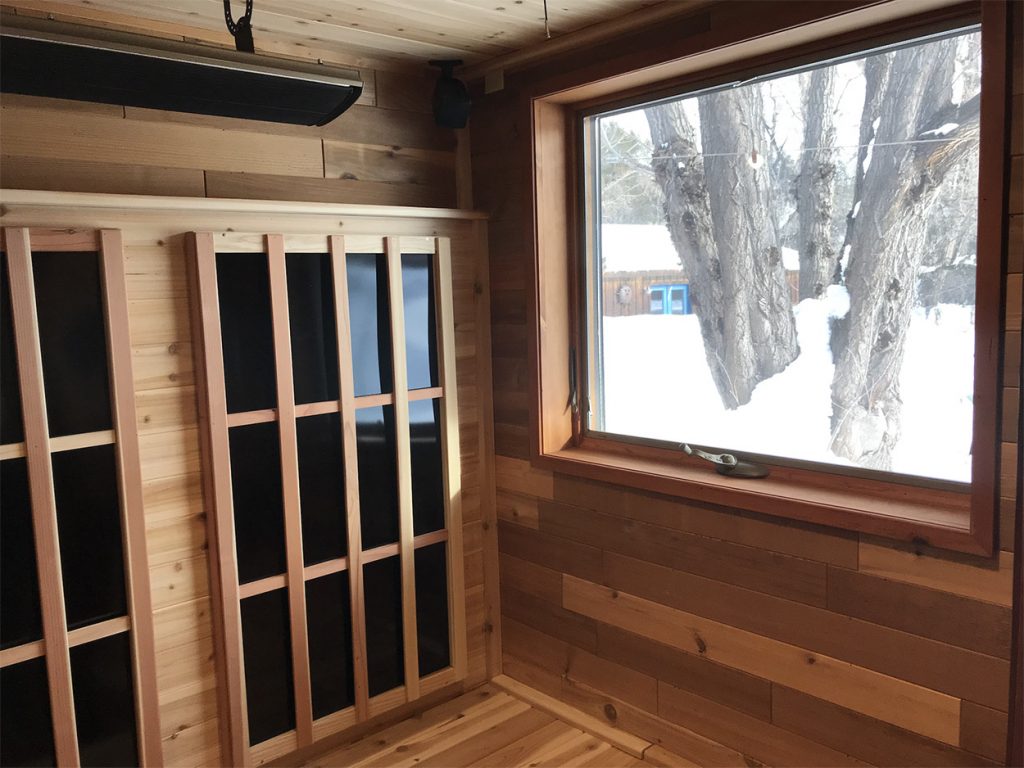 This requires that insulated tempered glass be installed. Sauna Cloud Infrared Saunas® does not supply windows. We recommend a minimum thickness of 10 mm tempered glass.
Wood Framing
Wood Framing
Sauna Cloud Infrared Saunas® gives the option to supply timber; if this is the case, it refers to the following wood components only: Interior Wood T&G (Walls, Floors, and Ceilings) Bench Wood S4S (Bench Seat) and trim wood. The benches are not prefabricated and will need to be constructed by the contractor.
Framing wood and furring strips are not included in the kit. These will need to be supplied by your contractor. Sauna Cloud Infrared Saunas® does not supply wall framing or bench sub-framing material unless otherwise requested.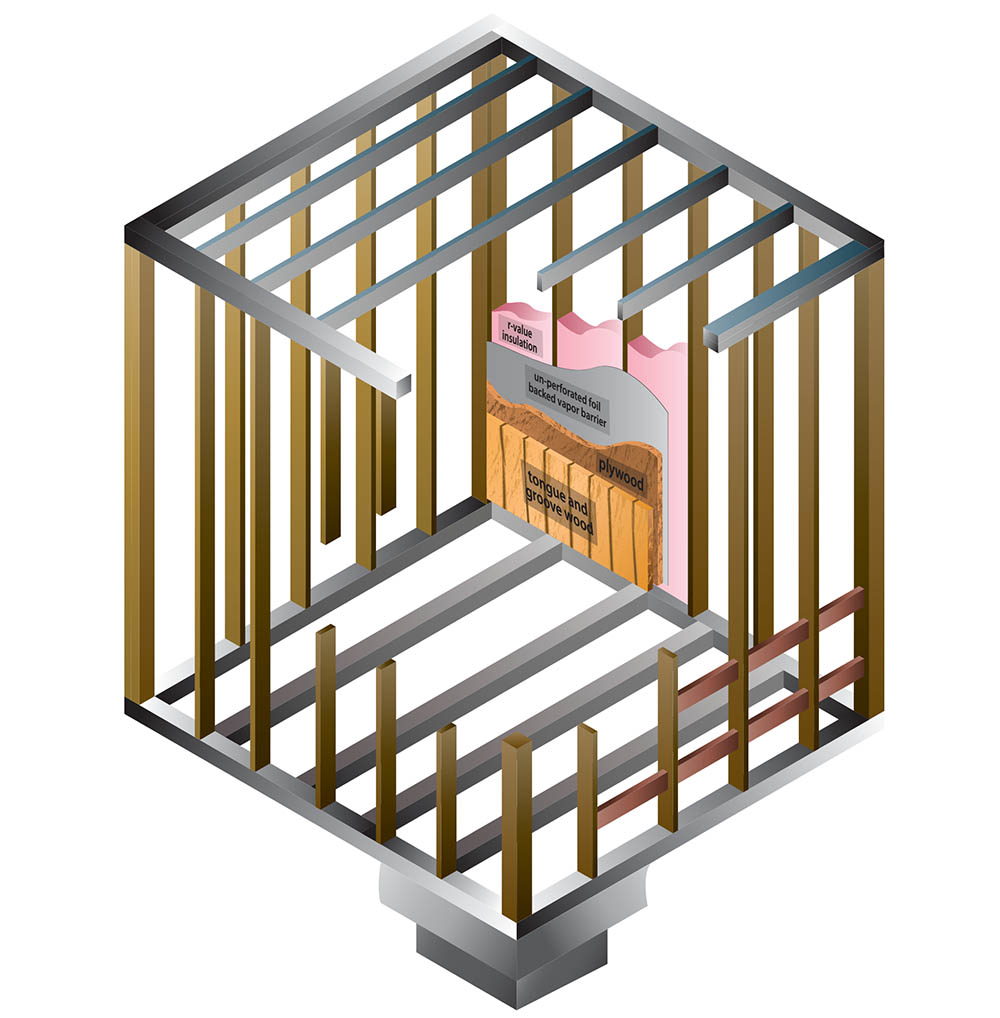 Laying Tongue and Groove Wood
Laying Tongue and Groove Wood
Framing Walls, Ceiling, and Floor Frame (FS) the room to 16" on center stud, if possible, and make sure that the walls are level before installing the tongue and groove wood. For the floor construction, it is a good idea to install furring strips (FS) so that the floor is level. You will need to run the tongue and groove wood perpendicular to the furring strips. Refer to the specification sheet for the finished interior room dimensions.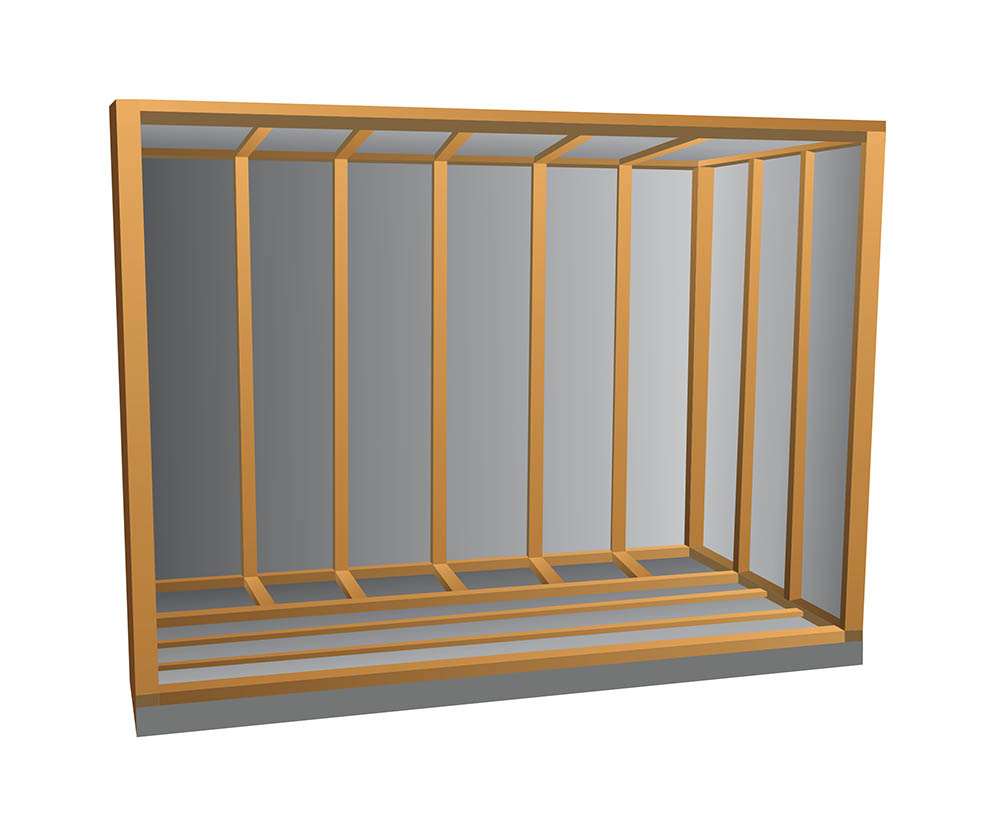 The sauna interior tongue and groove wood should be mounted horizontally, tongue side up. This will prevent moisture from collecting in the groove. The areas where the junction boxes are mounted will require a 6″ x 6″ window cut out. This will allow for access should it ever need to be removed for servicing. (You can also leave then entire area open where the heaters are located, with no tongue and groove wood behind the heaters). 
Where the lighting, temperature sensor, chromotherapy and keypad controller harness are mounted, you will need to cut holes to allow proper mounting.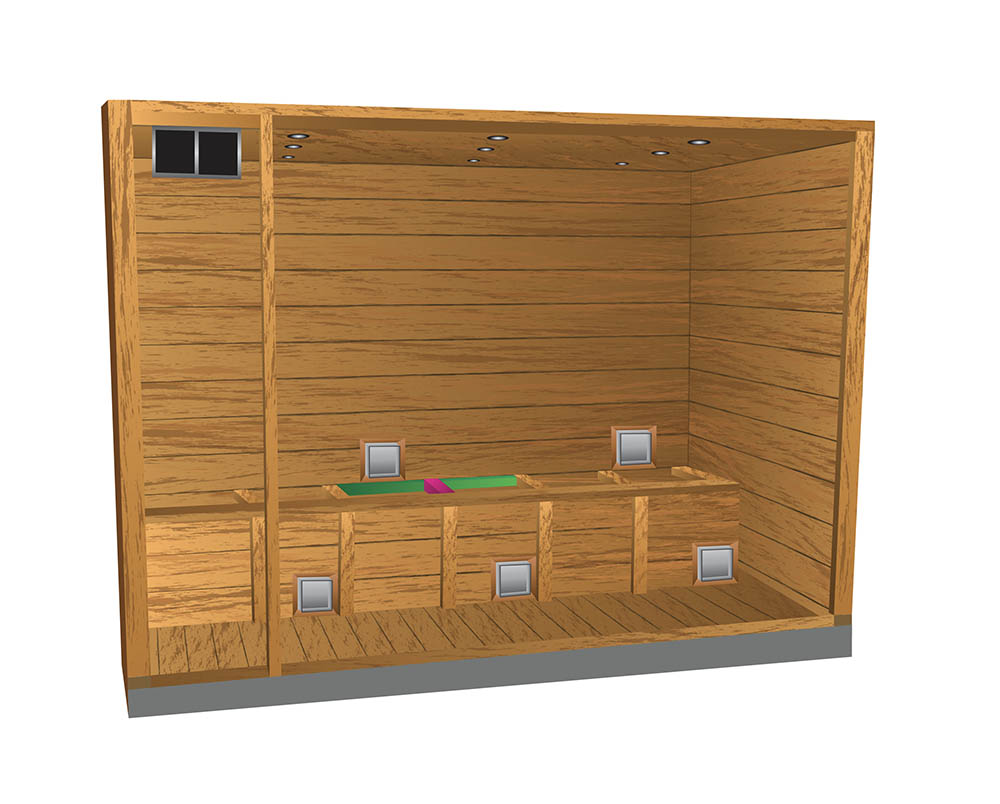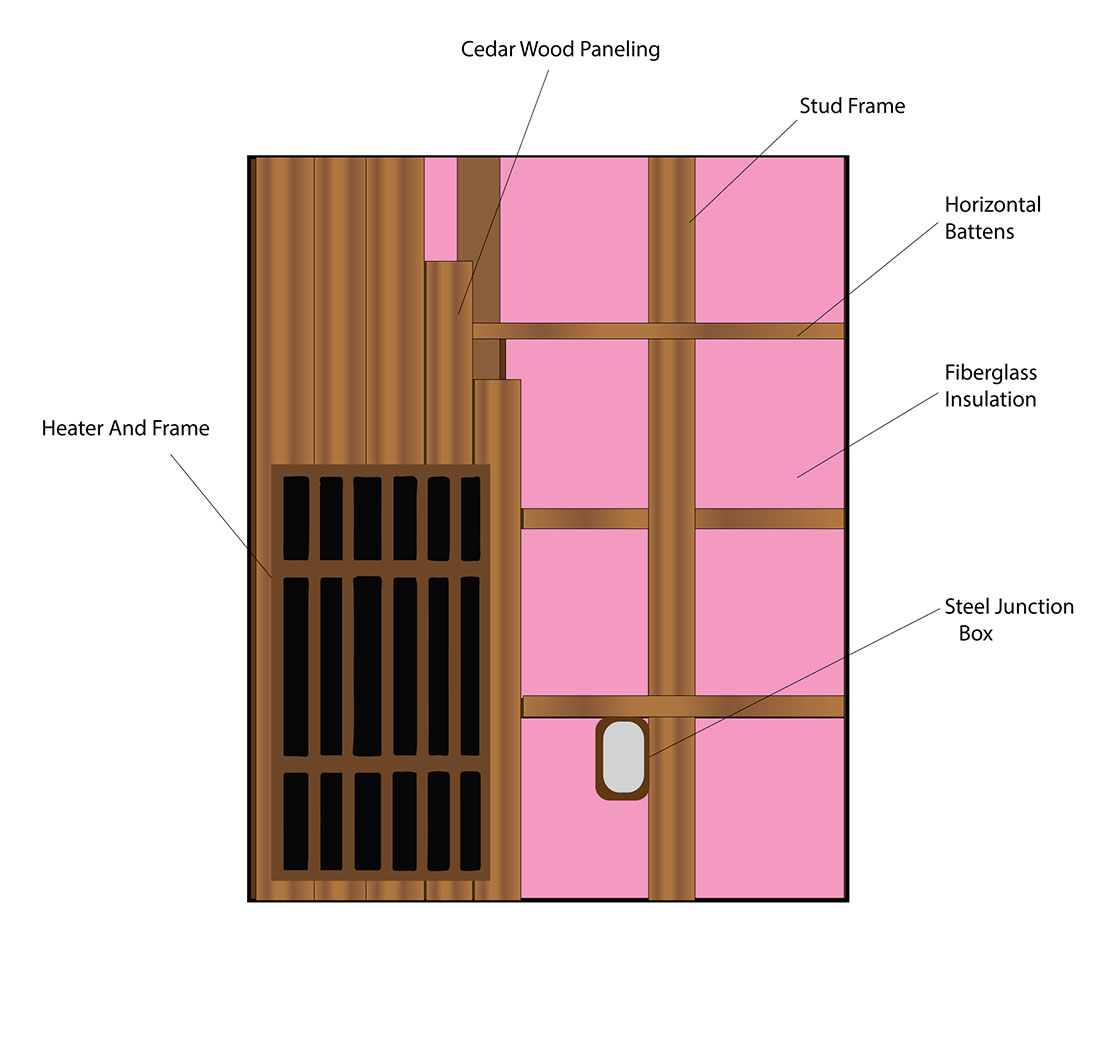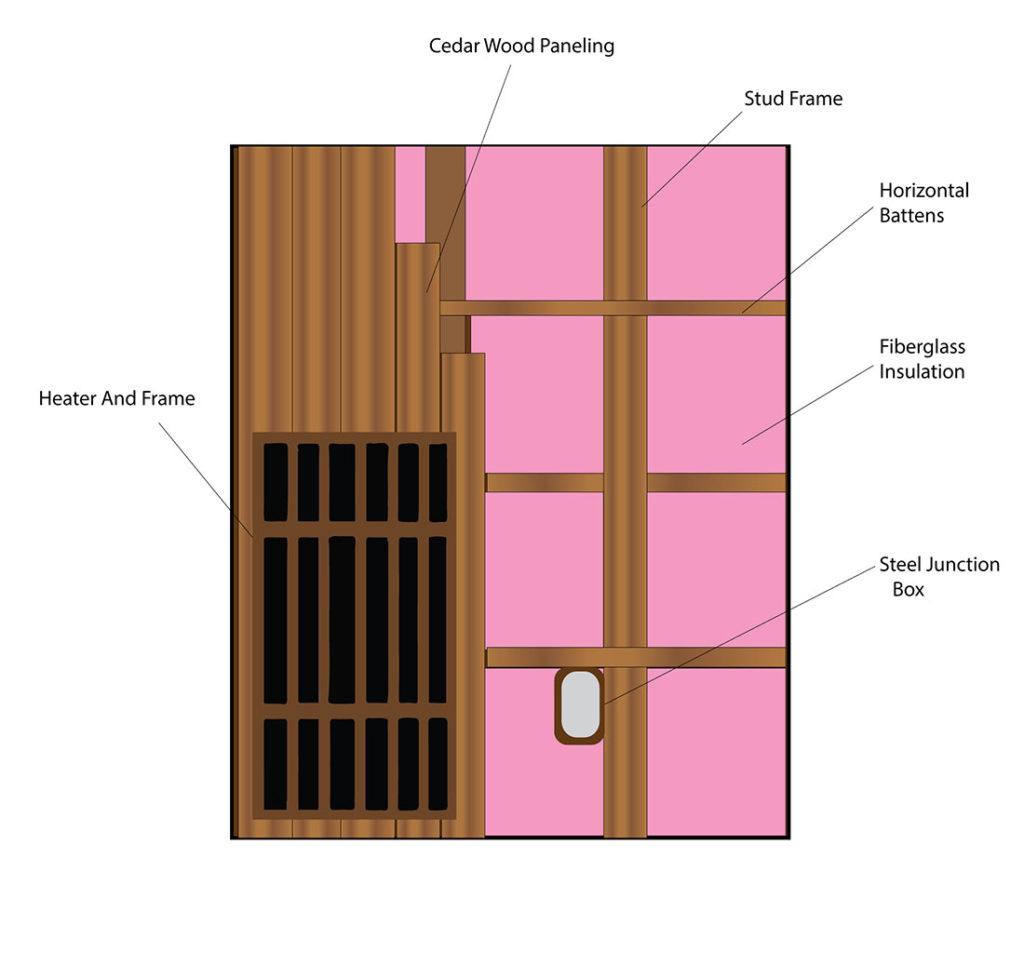 Bench Sub-framing Construction
Bench Sub-framing Construction
When building the subframe for the bench, secure the framing to the wall studs for maximum stability and support. Refer to the spec sheet for the finished bench dimensions. Sauna Cloud Infrared Saunas® does not supply any wood for bench construction unless otherwise requested–please speak with your contractor.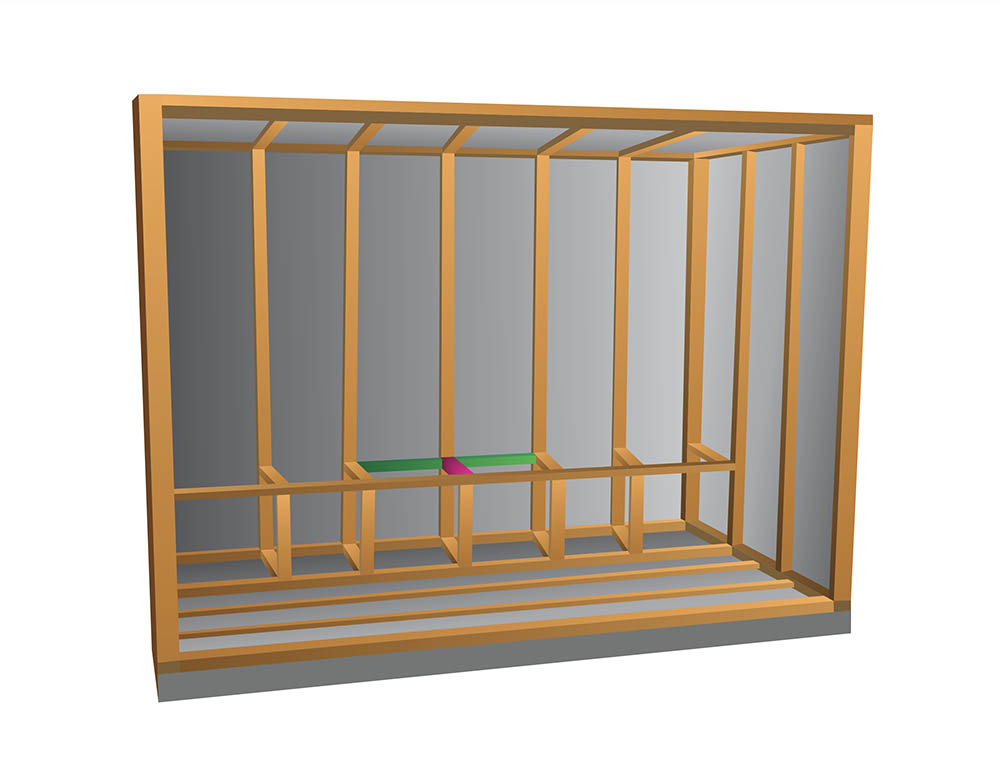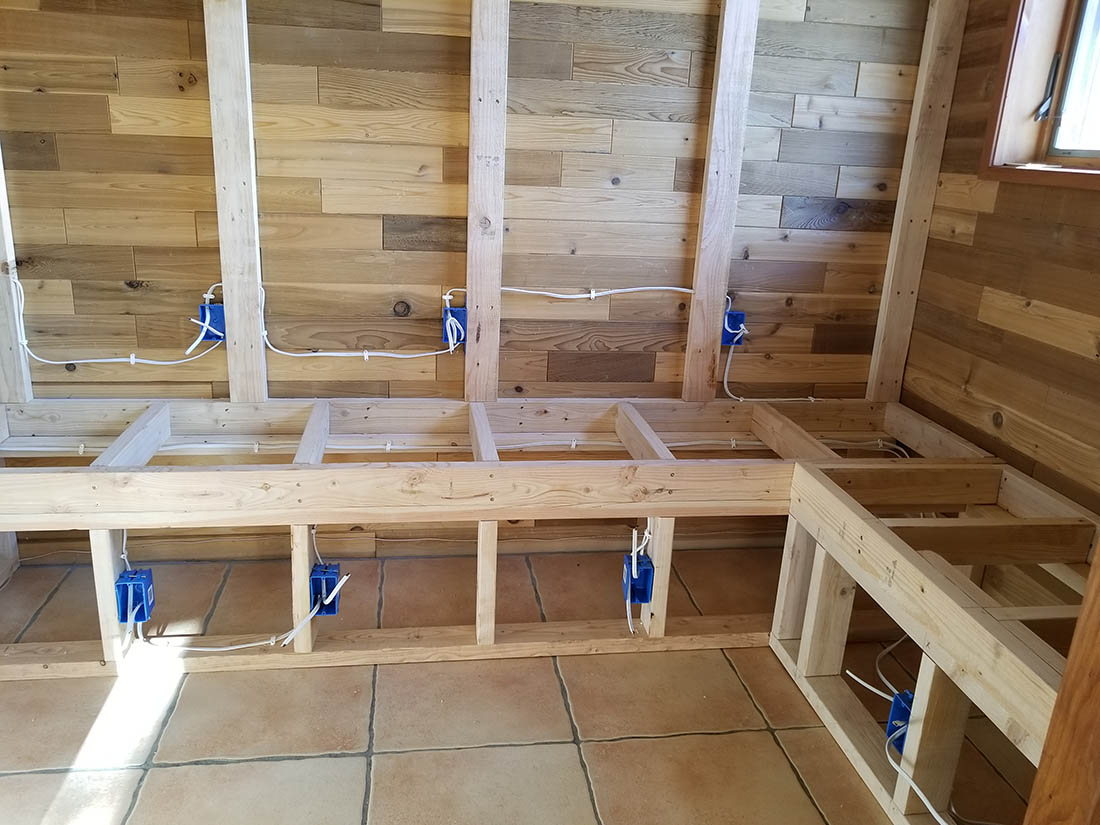 Flip Bench Construction
Flip Bench Construction
The power supply box will require access should the system ever need to be serviced by an electrician. Creating a flip bench is the recommended way to allow for access. It is also recommended for commercial installation to add a lock (FS) to prevent tampering, injury or damage. 
You can also have a bench seat that is removable this is not advised for commercial or rental properties. The flip bench subframing construction requires a removable support beam ( RED ) that will sit in the cradle system comprised of the 2 x 4" supports ( YELLOW ) to hold the bench. The flip seat should be constructed by adhering S4S to a sheet of plywood (FS) see below. 
The fixed bench(es) should be comprised of S4S attached to the framework and have no gaps or spacing between boards to prevent sweat or spillage from dripping onto the electronics housed beneath. Then attaching blind hinges (FS) ( BLUE ) so that the seat flips open. All other bench seating should also be adhered to plywood ( Burgundy ). All bench sub framing material will need to be supplied by your contractor.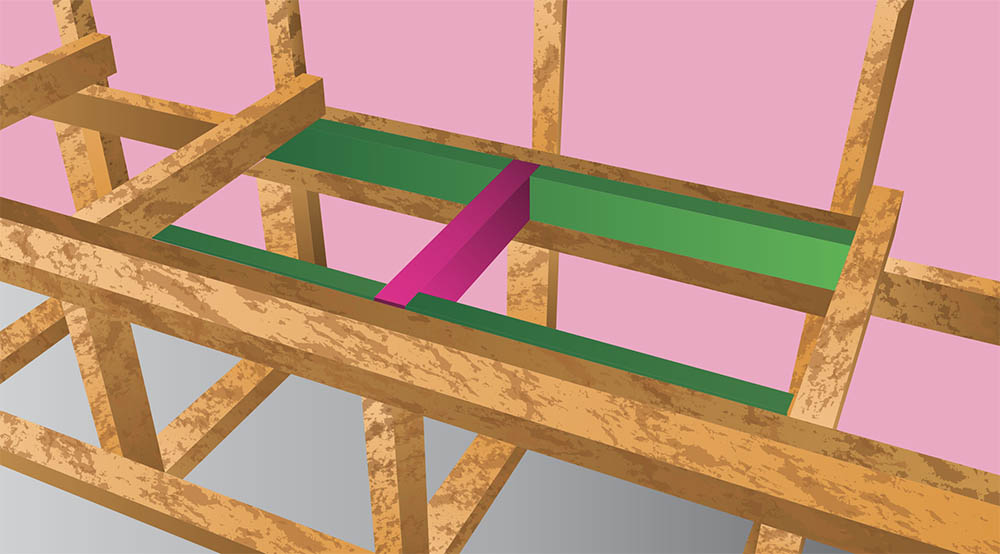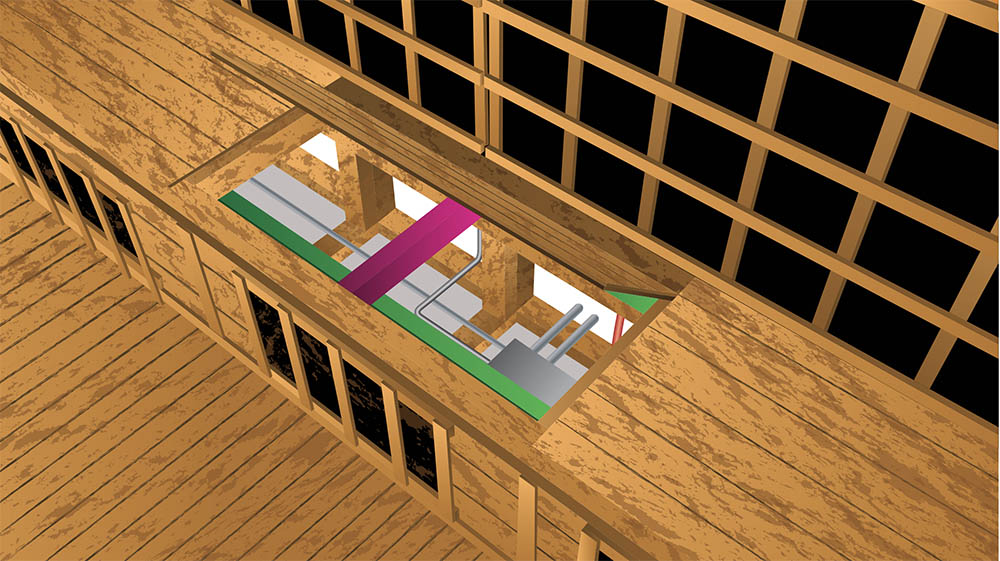 The flip bench seat and the fixed bench(es) should be installed after the electronic components. Here is a completed flip bench from one of our previous saunas: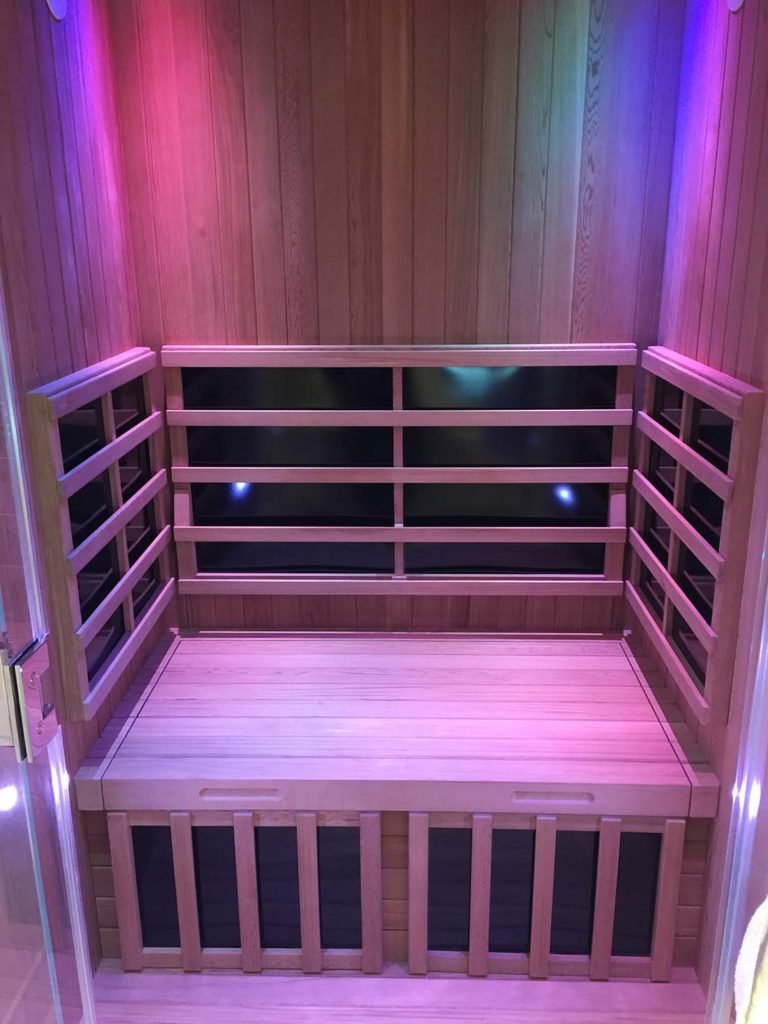 How to Wire Your Custom Infrared Sauna
How to Wire Your Custom Infrared Sauna
Now that you've framed your room and installed your wood it's time to wire your sauna. The following chapters will guide you along your way. 
Electrical Codes Must Be Followed
Electrical Codes Must Be Followed
Electrical codes are enforced to make sure electrical installations are safe and work properly, and inspectors don't kid around. Make sure you are following you county electrical codes and make sure your sauna gets inspected. Additionally, a licensed electrician is required to hard-wire your power supply⁠.
How the Electrical System Works
How the Electrical System Works
Electricity (current) is the flow of electrons through a conductor (usually copper or aluminum wire). The current travels in a loop, called a circuit, through a "hot" wire (usually black or red) to a fixture and returns through a "neutral" wire (usually white), completing the circuit. When the circuit in broken, the current ceases.
The system is grounded to the earth to prevent a user from being shocked from damaged or defective wiring.
Voltage and amps:
Voltage is electrical pressure exerted by the power source. Most household fixtures use 120 or 240 volts. Wires, appliances, and fixtures have different resistances to the voltage–the thicker the wire, the less resistance. Amperes and watts refer to the amount of electrical current used by devices in the system (such as a lightbulb). 
Electricity to your sauna:
Electricity flows from the utility provider through high-voltage wires to transformers that reduce the amount of power to 120 volts per wire. The wires enter your home through a service head, which attaches to a meter that records your power use. The wires then enter the service panel, which divides the power into circuits and distributes power to outlets throughout your home.
Service to most homes is three-wire–two "hot" wires carrying power inside and one "neutral" wire completing the circuit. Two hot wires means that a home can run 120-volt and 240 volt circuits. Older homes with only one hot and neutral are limited to 120-volt service.
Rough Wiring and Ventilation
Rough Wiring and Ventilation
When the framing for the room and bench are complete, identify where the power supply box will be housed. The power supply will need to be enclosed inside the bench housing.This will protect the power supply from incidental contact and spillage (see Flip BenchConstruction). 
The location of the keypad, especially if it is going to be surfaced or flush mounted (see cut sheet for more information), should be established at this point as well. Make sure to follow ADA requirements for placement if the ADA conditions apply to your sauna. The vent should be installed so that air flows into either a plenum, hallway or another interior room. 
Venting to the outside wall cause cool air to rush into the sauna diminishing the overall sauna temperature. A 4" x 6" shutter style vent is included with the kit, however, they can be field supplied as well so long as the minimum dimensions are met.
Wiring the Power Supply
Wiring the Power Supply
As per the wiring diagram below (region dependent), when bringing service into the power supply box, start with Gnd/L1/N1 or (Gnd/L1/L2/N1). This will bring power to the control board. Do not skip this as the system will not operate at all. Below is the wiring diagram: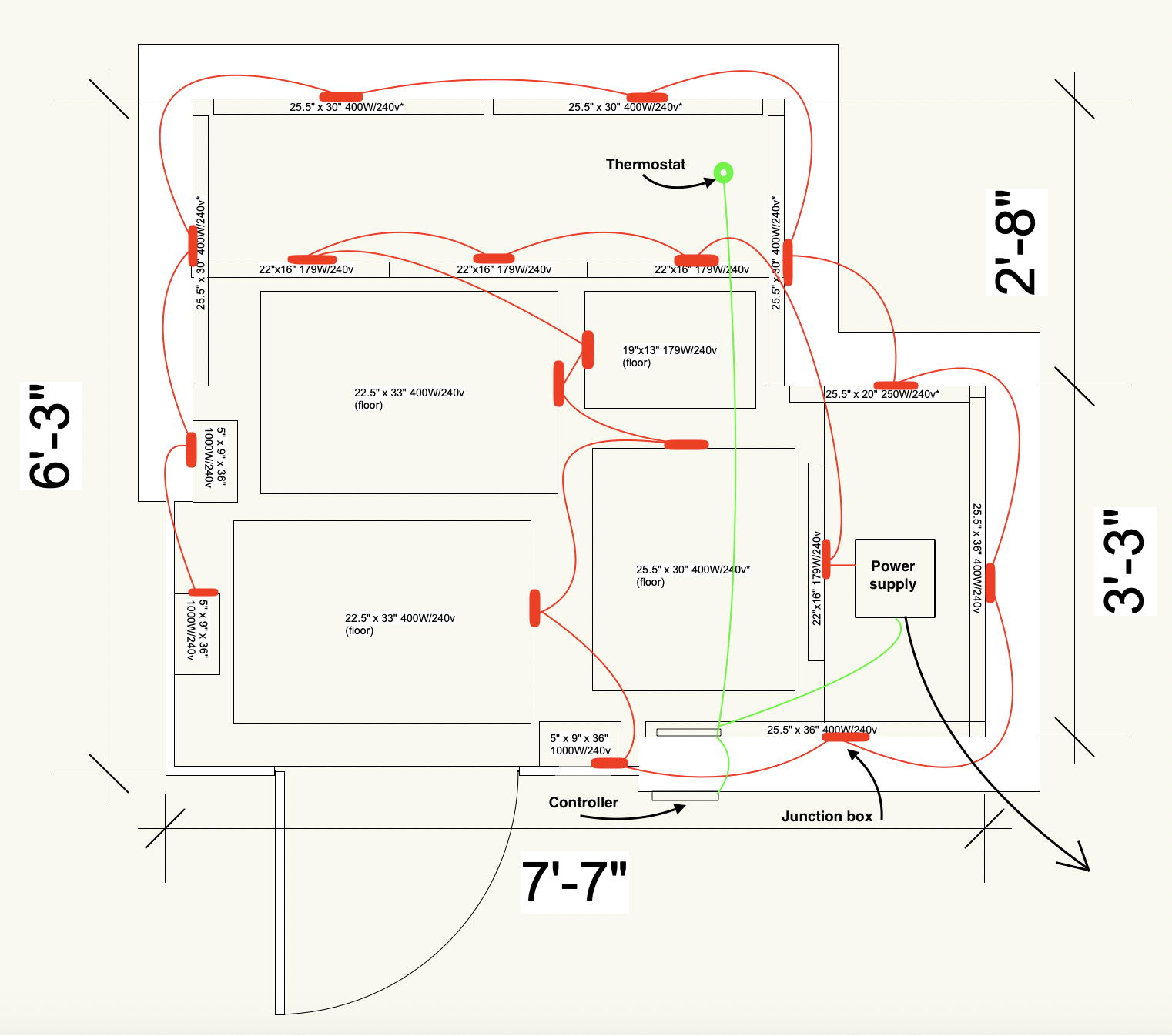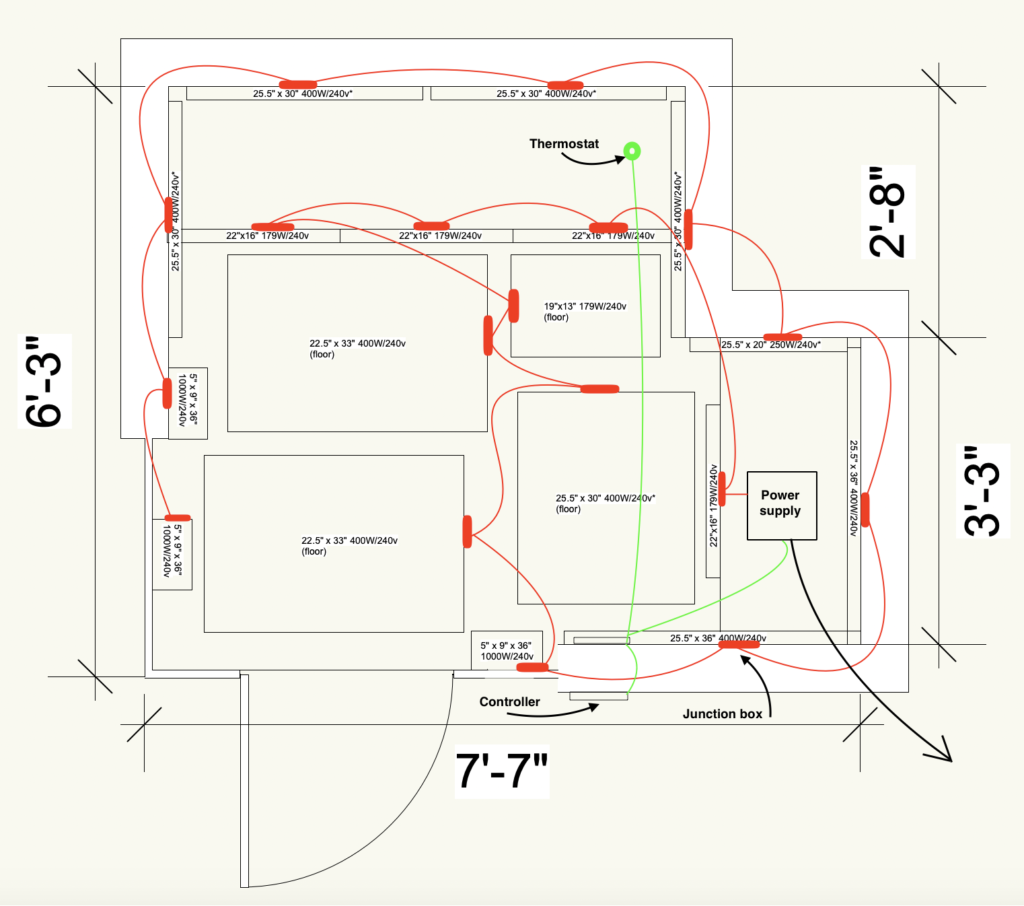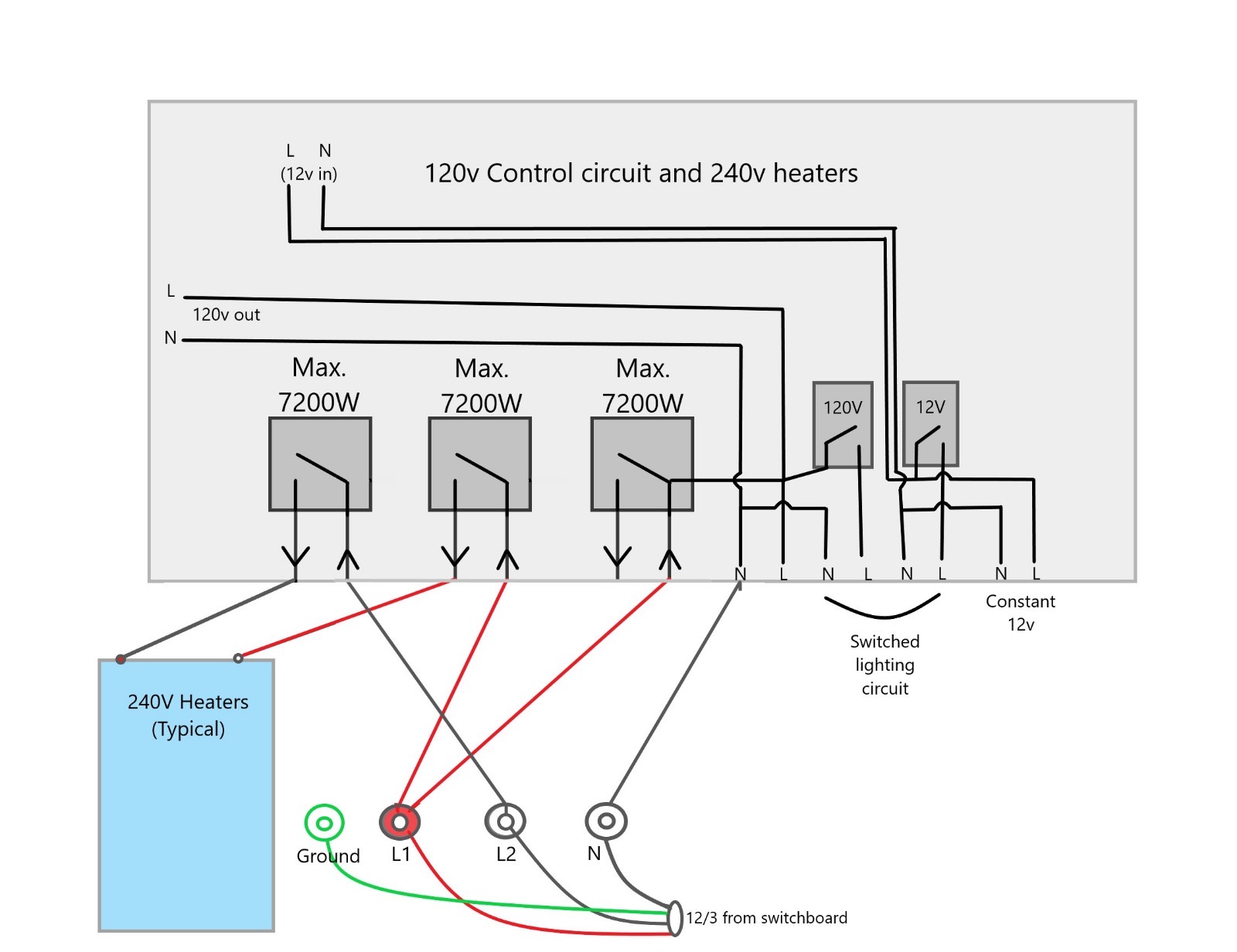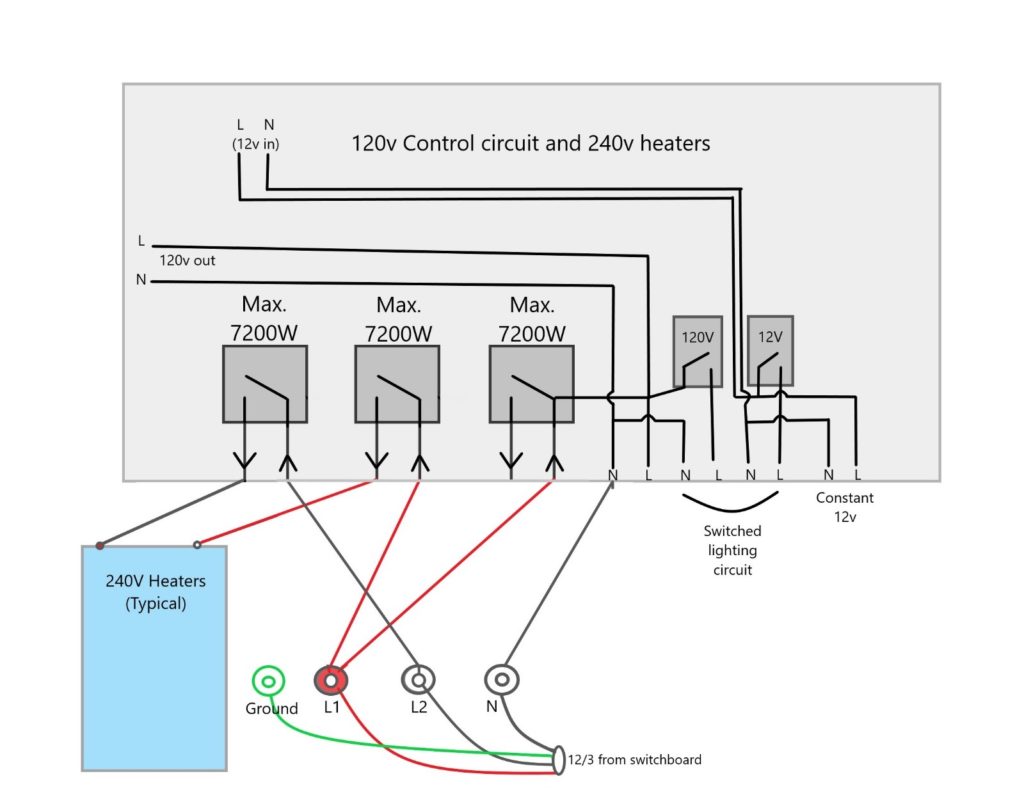 Mounting the Temperature Sensor
Mounting the Temperature Sensor
Mount the temperature sensor below the finished ceiling opposite the wall where the door is located. The temperature probe must be inserted ¾" into the sauna cabin from the finished wall. Use a low voltage conduit so that the harness can be easily replaced should it ever need to be serviced. Screw the provided faceplate into place to secure the temperature sensor to the wall.
Mounting the Control Panels
Mounting the Control Panels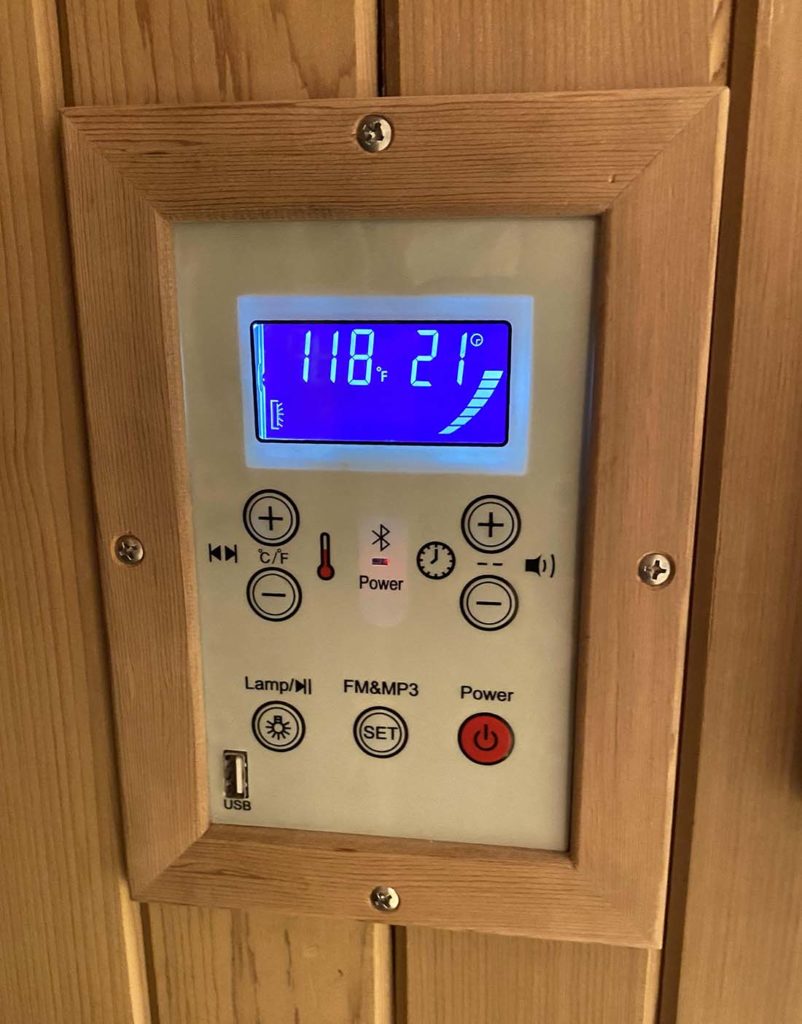 The control cable should be routed to where the keypad controller will be installed. Use a low voltage conduit so that the harness can be easily replaced should it ever need to be serviced.
Wiring the Heaters
Wiring the Heaters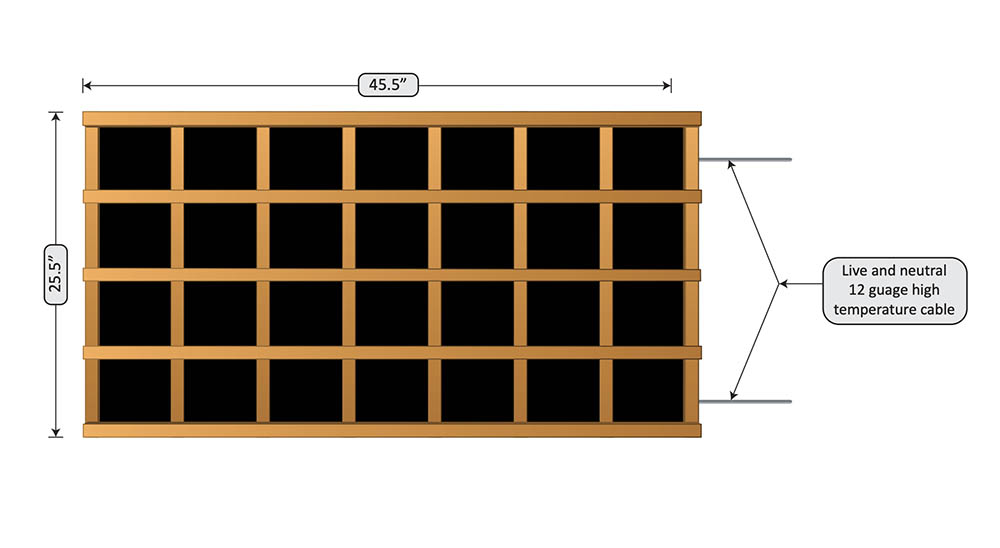 Each heater will require a 2 x 4"or 4 x 4" junction box w/ cover, proper leads (NM(Romex) or MC) and wire connectors (Marrette®). It's best to mount the junction boxes as close to the start of the leads on the back of the heater. Make sure to give enough slack so that the wire isn't taut. Depending on how many heaters will be installed in the cabin you may need additional junction boxes to collect the leads and have a single feed running to the power circuit(s). The spec sheet will indicate which heater wattage and placement.
Wiring the heaters to the power supply:
Using the leads (NM/MC), run the leads back into the power supply starting withGND/L1/N or (Gnd/L1/L2) (Ground is not necessary for the heaters). Each circuit is 7200-watts, under NEC each circuit cannot exceed 6600–watts, distribute the load accordingly.
Continue through the necessary number of circuits indicated on the spec sheet. Also, the installation of a larger junction may be necessary before terminating into the power supply if the system requires multiple heaters as they may not fit in the terminal bus.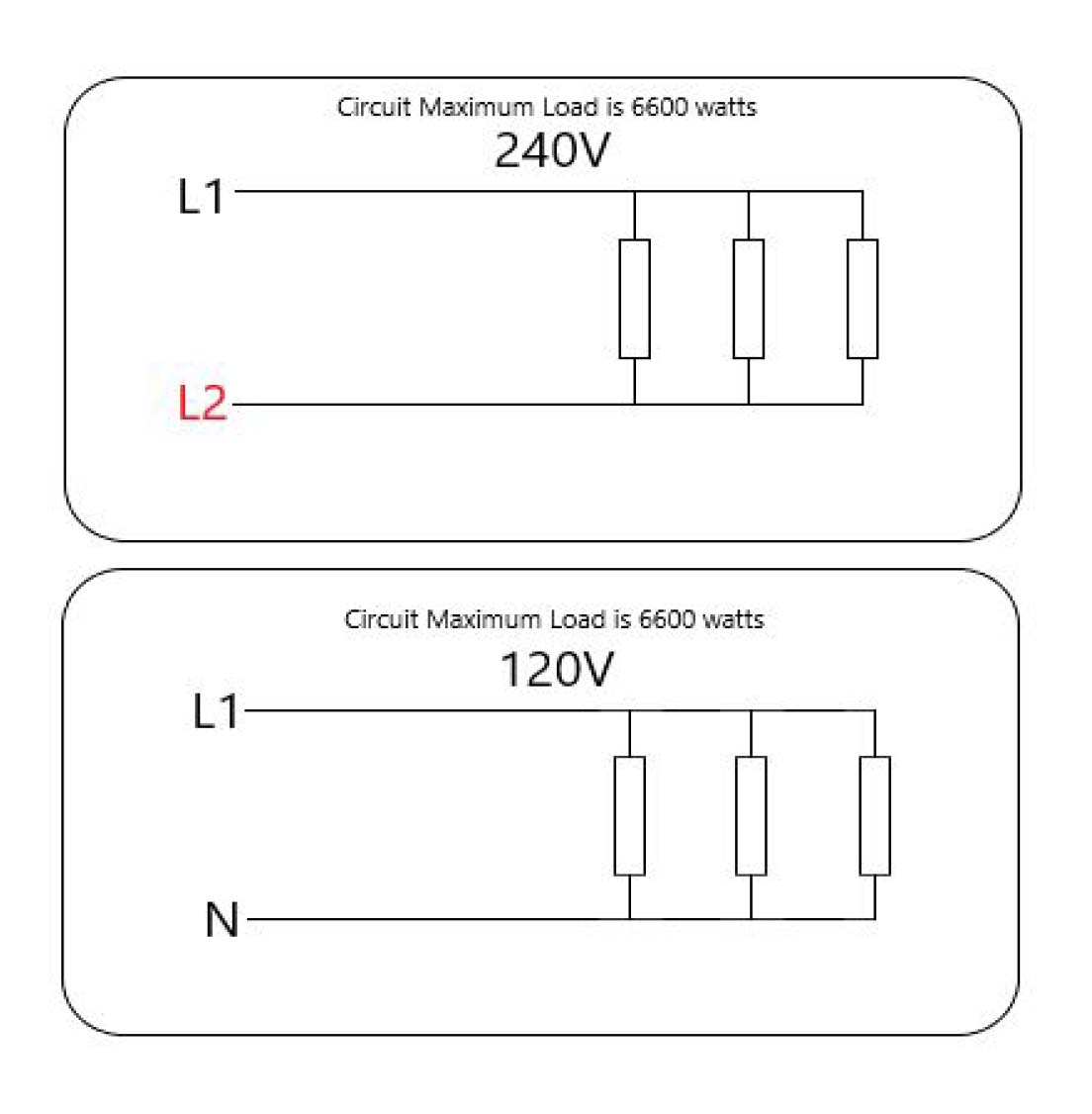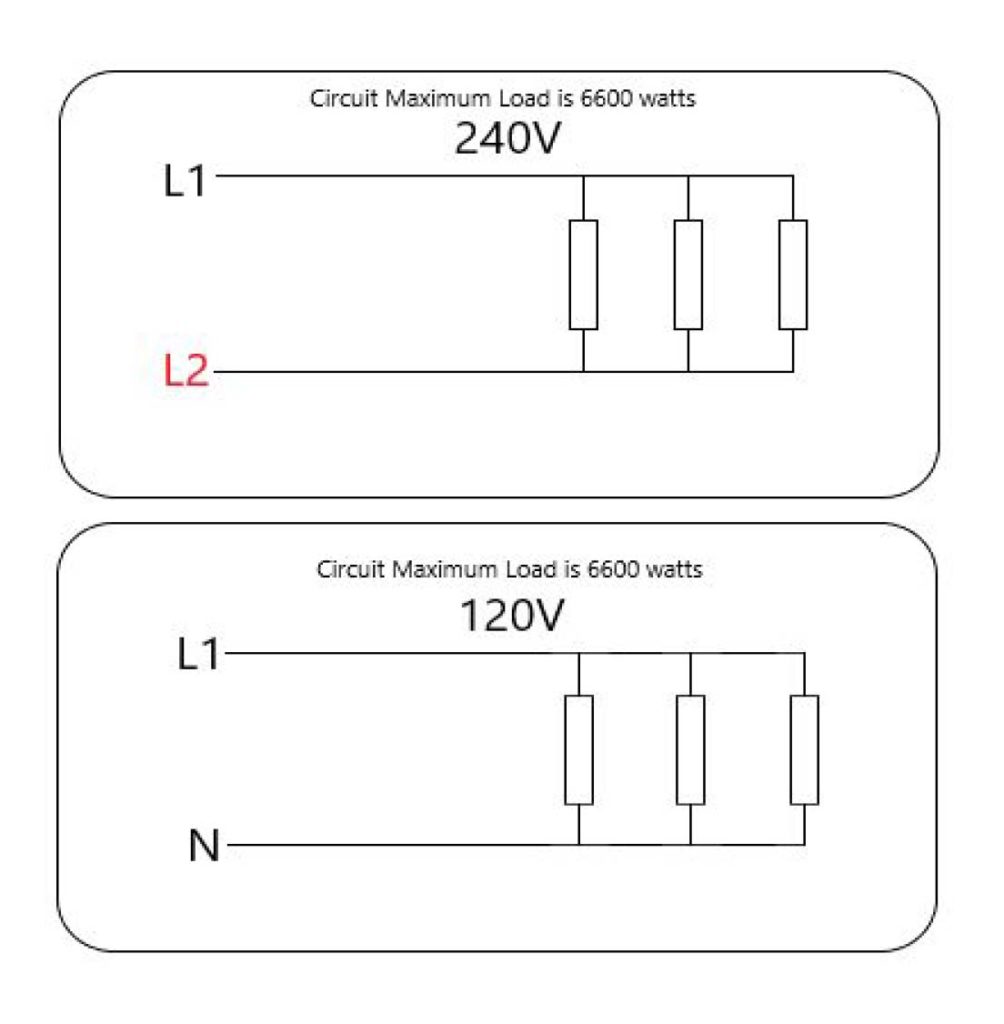 Mounting the Heaters
Mounting the Heaters
Depending on which heater elements are indicated on the spec sheet, it may require the use of different length screws. See the corresponding spec sheet(s) for more information regarding your sauna's components.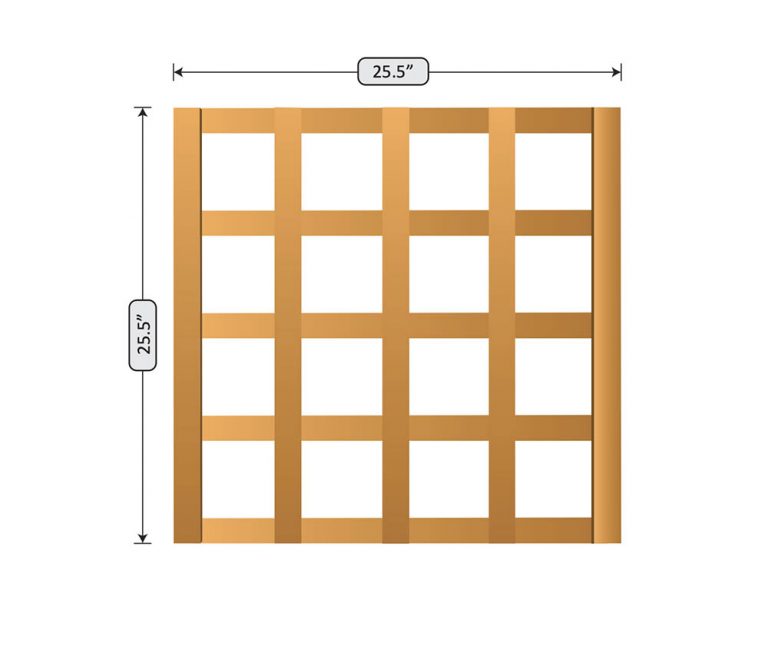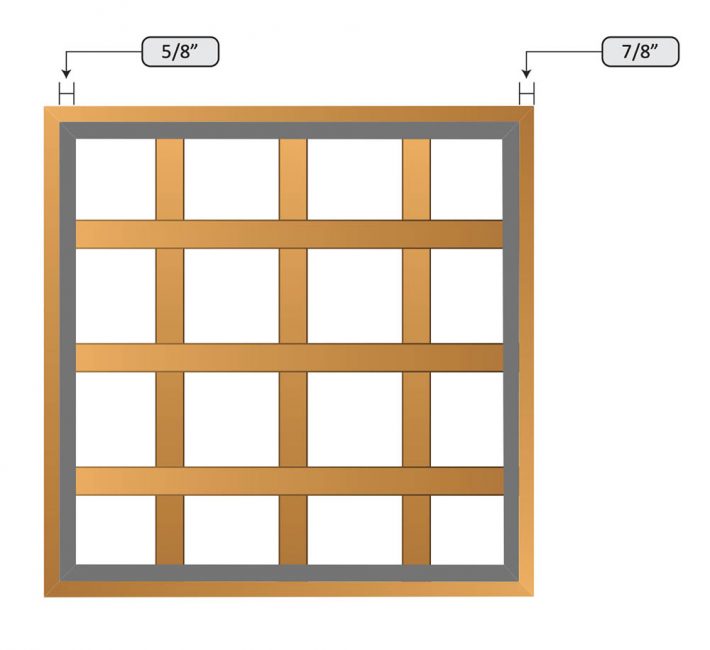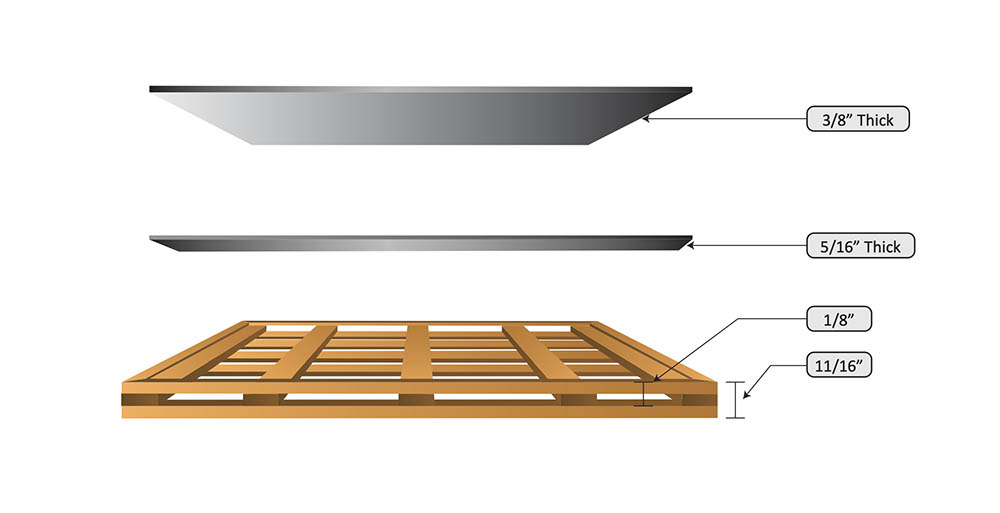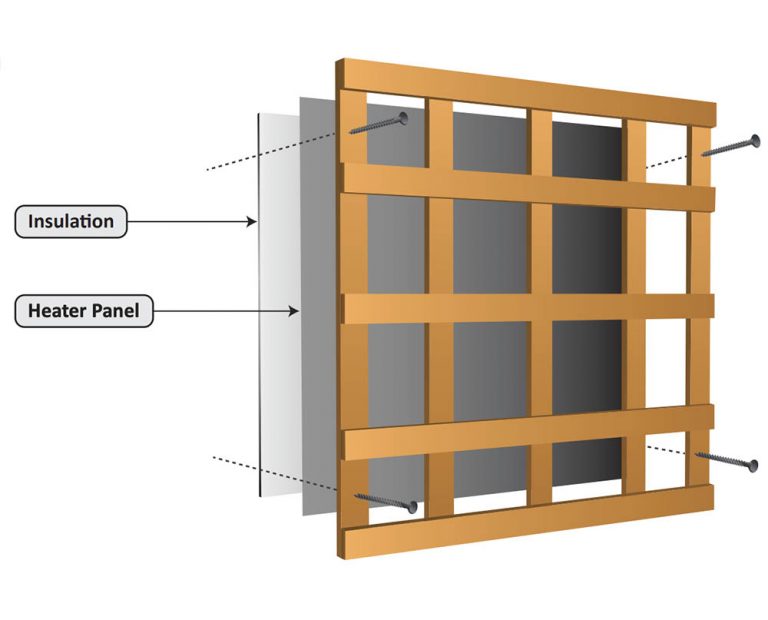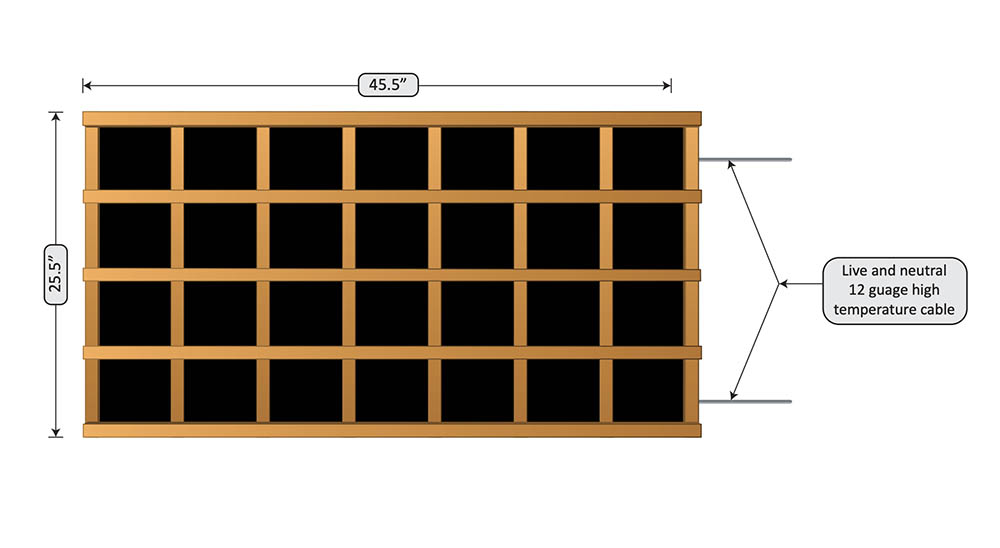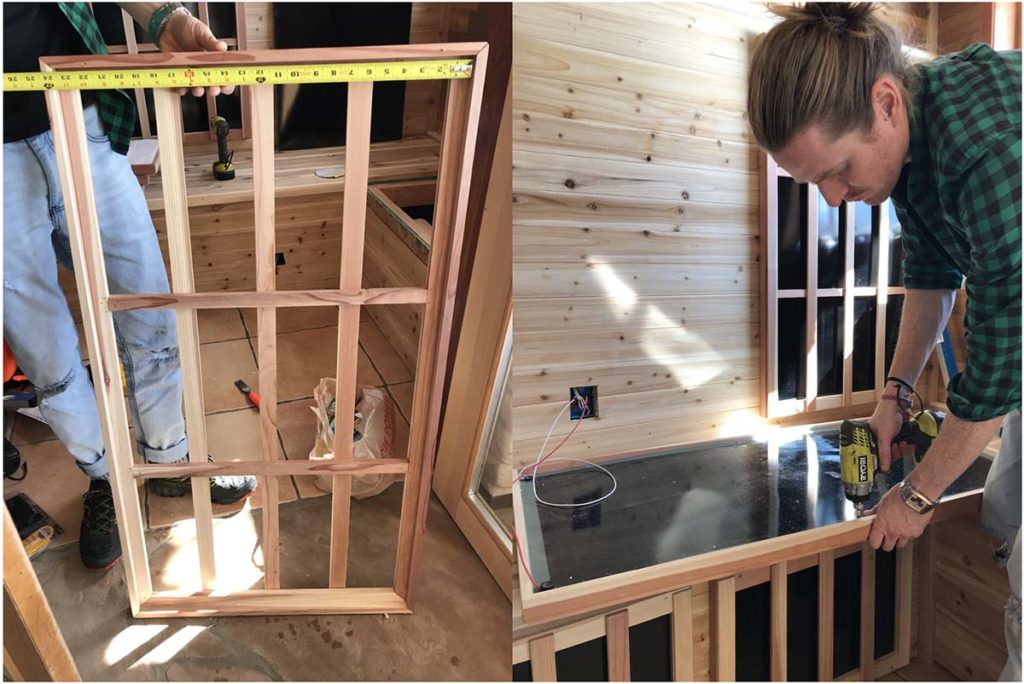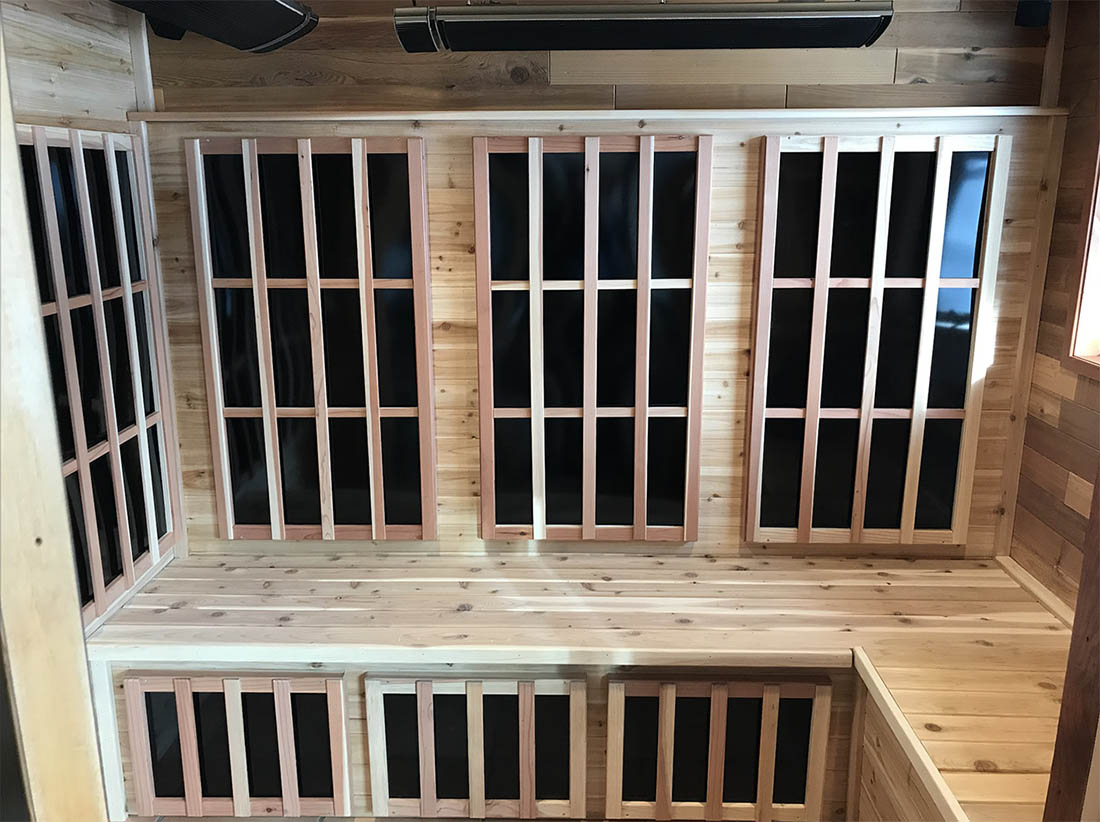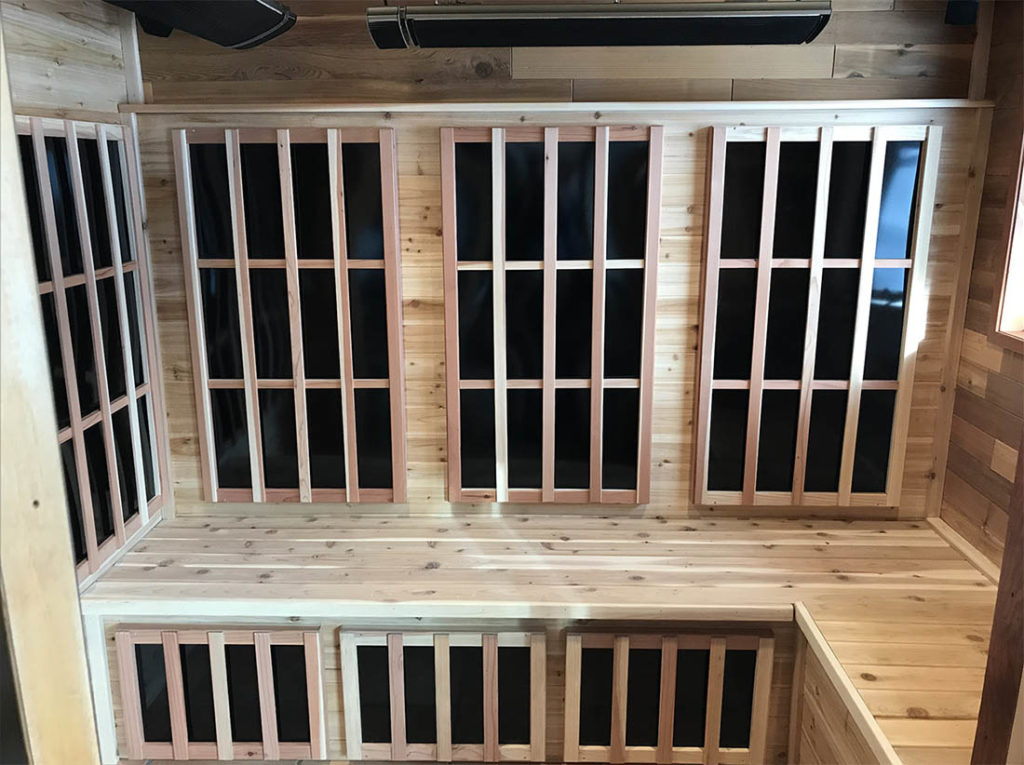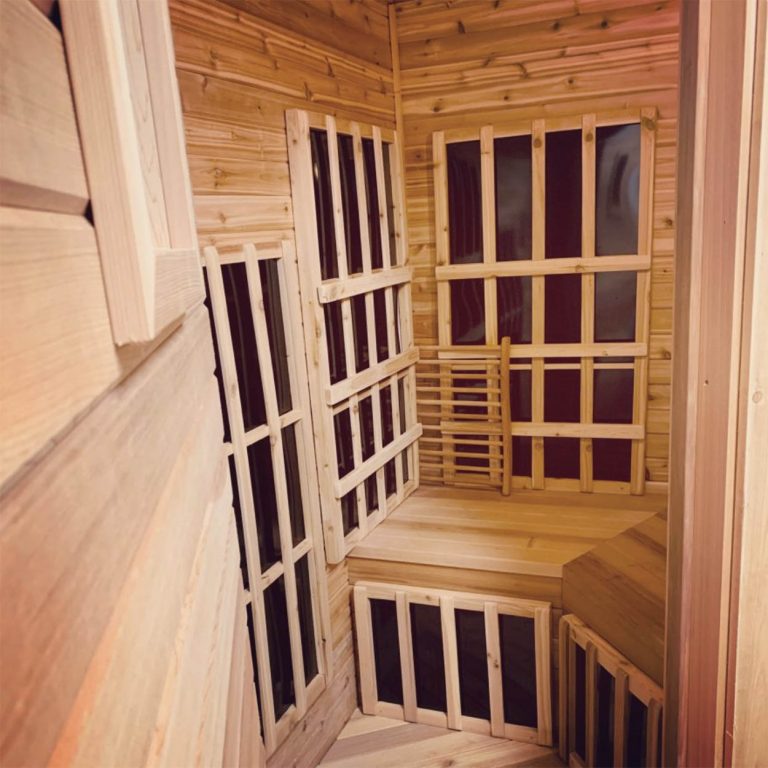 Mounting Infrared Heaters in the Floor
Mounting Infrared Heaters in the Floor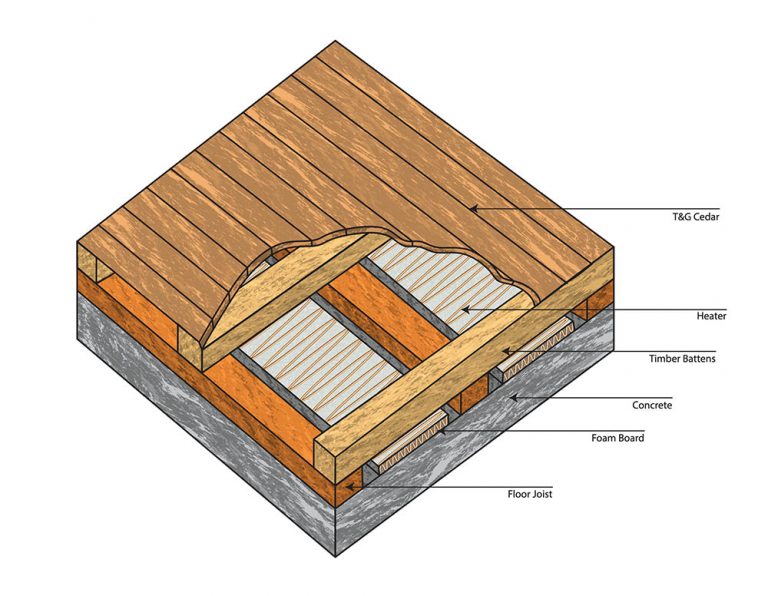 Infrared floor heaters provide a very nice, even heat under your feet so the heating of your body is in unison in your sauna. Please see the following diagrams to mount infrared heaters under the cedar floor.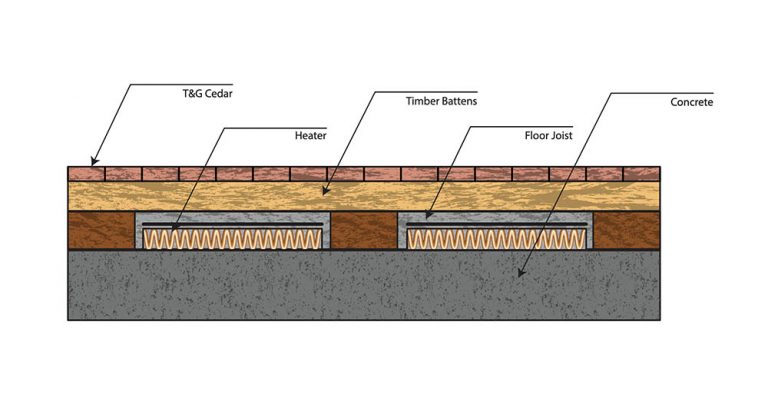 Attaching the Insulation
Attaching the Insulation
Ceramic fiber insulation allows for the infrared heaters to work their best by pointing all of their heat forward, instead of the heat escaping through the back. Attaching the insulation by simply putting it on top of the heater which both fit inside of the wooden heater frame.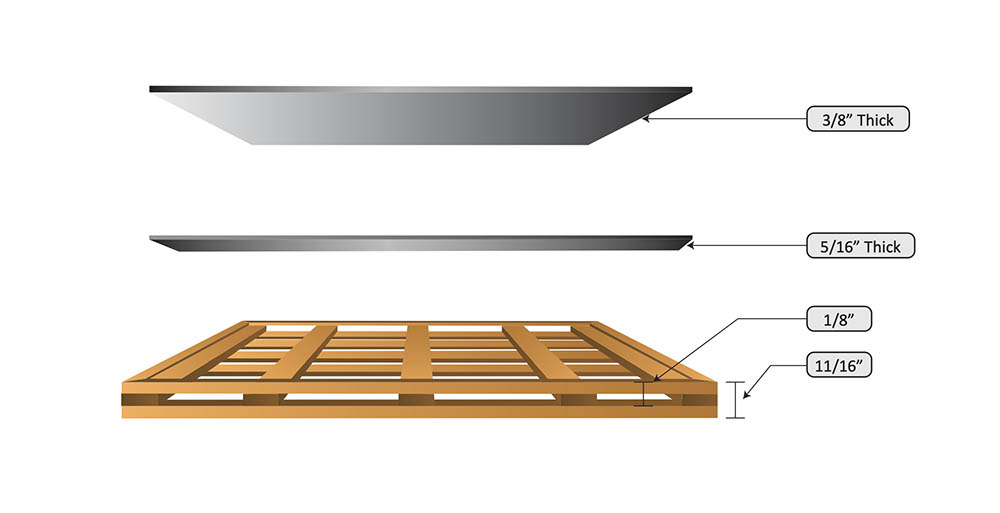 • Color Light Therapy/ Chromotherapy Light 
The Chromotherapy Cable should be mounted so that the fixtures will aim directly abovethe user's head when seated. Each light fixture will need to be centered along thebench(es) for even distribution.
• Red LED Light Therapy Fixture
The interior light fixture should be mounted in front of the bench(es) and/or by the door to allow for safe entry/exit of the sauna. Use a conduit so that the harness can be easily replaced should it ever need to be serviced.
• Stereo Speakers
The controller comes with built-in Bluetooth connectivity, MP3 player and FM Radio. Thespeaker terminals are noted on the control board as L- L+ and R- R+. speakers andspeaker cables are not included in the standard kit.
How to Control Your Sauna
How to Control Your Sauna
To turn on your sauna press the power button on the keypad. You can switch betwee Celsius and Fahrenheit by pressing both the up and down temperature buttons at the same time.
Use the (+) or (-) to increase or decrease the sauna temperature. The heaters will turn off when the sauna reaches its desired temperature.
Turn the sauna on and set the timer and temperature to maximum (60 minutes/158 ° F/70 ° C). Allow the sauna to warm up for 15 minutes to get the cabin to the proper temperature (90-95 ° F/32-35 ° C).
Use (+) or (-) to increase or decrease the sauna timer. It will count down until 00 and shut down the heaters.
If you would like to keep the sauna working continuously (no time limit), press and hold both (+) and (-) buttons, the display should show two dashes (–). To start the timer again, just click on one of the Timer Control buttons.
To lock the keypad hold the light button on the keypad. To unlock the keypad press andhold the same button.
Interior light — Press the inside light button to turn on the interior light.
Bluetooth connected light — The above sign and the light turn on the machine which keeps the bluetooth status on; which means the machine can be connected to the bluetooth device for music.
USB connect interface — The hole for the USB insert the machine and keep the MP3 status the music. This button switches between FM and MP3 status.
Lamp and pause button — This button is used for to turn the inside and outside lamps on and off.
However, when the controller is set to the FM or MP3 status this button can be used to suspend the MP3 or radio. Simply press again to unlock the pause.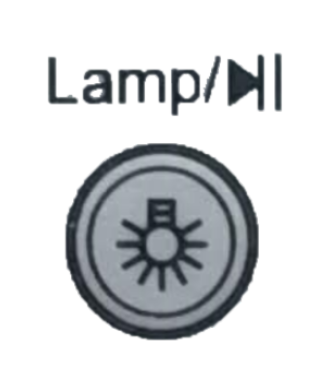 The ambient air temperature for the sauna cabin needs to be between 68-72°F/20-22°C. For any lower temperature, then the sauna has to start from a heat deficit which will diminish the saunas ability to warm up properly.
Turn the service for the sauna on and do an initial test run. If properly insulated, the sauna should be at 68-72°F/20-22°C and in 15-minutes the sauna should be 90-95°F/32-35°C. At the end of 60-minutes, the sauna should be at 125-135°F/46-54°C.
If you are not reaching these temperature benchmarks, please give us a call.
Door and window installation are not included in this manual as they are not supplied by Sauna Cloud Infrared Saunas® unless otherwise requested. Please consult the door vendor for more information for proper installation.
General Information
General Information
• A licensed electrician is required for electrical installation as your power supply must behard wired directly into the wall.
• Wiring Instructions — *All wiring instructions and installation processes must be followed according to this installation manual exactly for safety and proper functioning purposes. The sauna may not work properly if installation is executed improperly–there will also be a risk of fire should the step by step instructions not be followed exactly. You will not be covered under our warranty or insurance should this manual not be followed exactly.
• Lead time information — Lead times for components start on the date of your sales order (i.e. the date of purchase), not the sales estimate. During this time, the wood is being milled, frames arebeing built and the electronics are going through quality control checks. Transit time isnot included in lead time. Please plan accordingly.
*Lead times are as follows: Lead time for electronic components and all wood is 3-4 weeks for delivery (including shipping time from our locations in San Francisco, CA and Melbourne, Australia).
• Delivery Information — Electronic components are shipped via FedEx Ground (standard ground shipping). Domestic ground transit time is approximately 5-7 business days. The wood for the sauna interior and bench are shipped via 3rd party freight carrier. Domestic freight transit time is approximately 7-10 business days.
• Warranty Information — The SaunaCloud Custom Infrared® components come with a complete 10 year warranty that covers manufacturers defects on the electronics. Because of direct contact with wood, there is no warranty for the wood and is sold as is. Replacement parts are shipped via FedEx Ground at no additional charge.
• Return Policy — All sales are final. Please review components within 30 days of receiving to ensure that all of the components are accounted. Any discrepancies discovered after the 30-day mark may not be covered and are at the discretion of Sauna Cloud Infrared Saunas®.
• Tips — If you're having trouble sweating make sure that you are properly hydrated. Take a quick hot shower to open up your pores. Use a dry brush on your arms and legs to help increase circulation. It generally takes a few sauna sessions in order for your body to sweat more freely from increased body temperature.
• Sauna Maintenance – During your sauna session you will want to sit on a folded over towel on both the bench and on the floor.
Contraindications
Contraindications
*Remember to stay hydrated while you are in the sauna. Make sure to pay attention to your body. If you start to feel light-headed or dizzy, exit the sauna immediately.
It makes sense to discuss common concerns in regard to taking regular sauna sessions. Consult with your primary care physician if you have any doubts surrounding your personal health and regular infrared sauna use. While it's perfectly safe to use an infrared sauna, there are a few instances where we recommend speaking to your doctor first.
• Medications — People who take prescription drugs should consult with their physician before use of infrared sauna, as the effects of their prescription might change during increased core body temperature. Diuretics, barbiturates, and beta-blockers may impair the body's natural heat loss mechanisms. There are also over-the-counter drugs such as antihistamines that may cause the body to be more prone to heat stroke.
• Children — The core body temperature of children rises much faster than adults. This occurs due to a higher metabolic rate per body mass, limited circulatory adaptation to increased cardiac demands and the inability to regulate body temperature by sweating. Consult with your child's pediatrician before they use the sauna. As noted in the MedicalStudies chapter of 'The Definitive Guide to Infrared Saunas', children have been taking saunas with their parents for hundreds if not thousands of years.
• Elderly — The ability to maintain core body temperature decreases with age. This is primarily due to circulatory conditions and decreased sweat gland function. The body must be able to activate its natural cooling processes in order to maintain core body temperature.
• Cardiovascular Conditions — Individuals with cardiovascular conditions such as hypertension/hypotension, congestive heart failure, impaired coronary circulation or those taking medications which might affect blood pressure, should exercise caution when exposed to prolonged heat.
Heat stress increases cardiac output and blood flow in an effort to transfer internal body heat to the outside environment via the skin (perspiration) and respiratory system. This takes place primarily due to major changes in the heart rate, which has the potential to increase by thirty beats per minute for each degree increase in core body temperature.
• Alcohol and Alcohol Abuse — Contrary to popular belief, it is not advisable to attempt to 'sweat out' a hangover. Alcohol intoxication decreases a person's judgment; therefore, they may not realize when the body has a negative reaction to high heat. Alcohol also increases the heart rate, which may be further increased by heat stress. Alcohol consumption is not recommended with infrared sauna use.
• Chronic Conditions/Diseases Associated With a Reduced Ability to Sweat or Perspire — Multiple Sclerosis, Central Nervous System Tumors, and Diabetes with Neuropathy are conditions associated with impaired sweating. You may want to consult your doctor to find out how sweating will affect your disease and the prescription medication you takeas a result.
• Hemophiliacs/Individuals Prone To Bleeding — The use of infrared saunas should be avoided by anyone who is predisposed tobleeding.
• Fever — You should not use the sauna when you have a fever or are extremely sick with a cold.
• Insensitivity to Heat — An individual that has insensitivity to heat should not use a sauna.
• Pregnancy — Pregnant women should consult a physician before using a sauna because fetal damage can occur with a certain elevated body temperature.
• Menstruation — Heating of the low back area of women during the menstrual period may temporarily increase their menstrual flow. Some women endure this process to gain the pain relief commonly associated with their cycle, whereas others simply choose to avoid the saunas use during that time of the month.
• Joint Injury — If you have a recent (acute) joint injury, it should not be heated for the first 48 hours after injury or until the hot and swollen symptoms subside. If you have a joint or joints that are chronically hot and swollen, these joints may respond poorly to vigorous heating of any kind. Vigorous heating is strictly contraindicated in cases of enclosed infections be they dental, in joints, or in any other tissues.
• Implants — Metal pins, rods, artificial joints or any other surgical implants generally reflect far infrared waves and thus are not heated by this system. Nevertheless, you should consult your surgeon prior to using an infrared sauna. Certainly, the usage of an infrared sauna must be discontinued if you experience pain near any such implants.
Silicone does absorb far infrared energy, so implanted silicone or silicone prostheses for nose or ear replacement may be warmed by the far infrared waves. Since silicone melts at over 392 °F, it should not be adversely affected by the usage of infrared saunas. It is still advised that you check with your surgeon and possibly a representative from the implant manufacturer to be certain.
Customer Testimonials
Customer Testimonials
Customer Testimonials
The Highest Rated Sauna Company Online
In 7 Years, We've Never Received a Negative Review
I am 2 years into my relationship with Sauna Cloud. The key is "relationship"! If I have questions, or needs regarding my Sauna Cloud Sauna, Christopher is here for me. It has been that way from the beginning, answering my questions, and teaching me, not just selling me along the way. My Sauna Cloud experience could not be better. I bought it to help me age gracefully and maintain the balance of good health. It is my friend, my safe place, my health haven. It functions and easily and well. There are no issues. My sweats are long and thorough! best wishes, john
We absolutely adore this sauna. We use it three times a week to detox and enjoy. Not only is it beautiful but is easy to use. It is like a piece of furniture in our small bathroom. We opted for a sauna instead of a bath tub and do not regret our choice. Chris was great to work with and over the year we worked with him waiting for our house to be built he was always so helpful. This is an awesome sauna!
Couldn't be happier with my Clearlight Infrared sauna purchase from Sauna Cloud. Quality construction and just a beautiful unit. Excellent customer service as well. Highly recommend Chris and Sauna Cloud.
Thank you for reading—We mean it
I am glad infrared saunas have developed the way they have, because I couldn't imagine my life without the benefits they provide, like sound sleep, lower blood pressure, less joint pain, weight loss, and clearer skin. Here at SaunaCloud I sell saunas that are some of the best history has offered. My far infrared saunas use advanced ceramic-carbon combination heaters for an amazing sauna experience. For more information on how SaunaCloud's infrared saunas work and how they can improve your health, download my book The Ultimate Guide to Infrared Saunas. Just give us a call at SaunaCloud 1.800.370.0820.
If you enjoyed this page, please share it below ↓ Thanks for reading,