---
Good news! All of my writing has paid off! SaunaCloud was just ranked by feedspot as the number 4 sauna blog on the planet
and the number 1 infrared sauna blog online!
I have to say it's a pretty big honor after years of writing. At the very least, it's great motivation to keep educating the public on why infrared is the way to go and what to look for when purchasing an infrared sauna.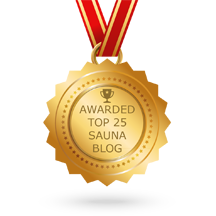 I have been writing this blog for over three years now and decided to look up my favorite posts. Here are a few of them. Enjoy!
Can you put your infrared sauna outside?
I Did a 30 Minute Traditional Sauna Session Yesterday…
Why 99% of Infrared Saunas Are the Same
Taking a Sauna When You Are Sick
When Sitting Next to a Fire Are You Feeling Infrared Heat or Heated Air?
Why can we feel infrared light but not ultraviolet rays?
Does heat emit infrared photons or are infrared photons what give things heat?
Are You Microwaving Yourself in an Infrared Sauna?